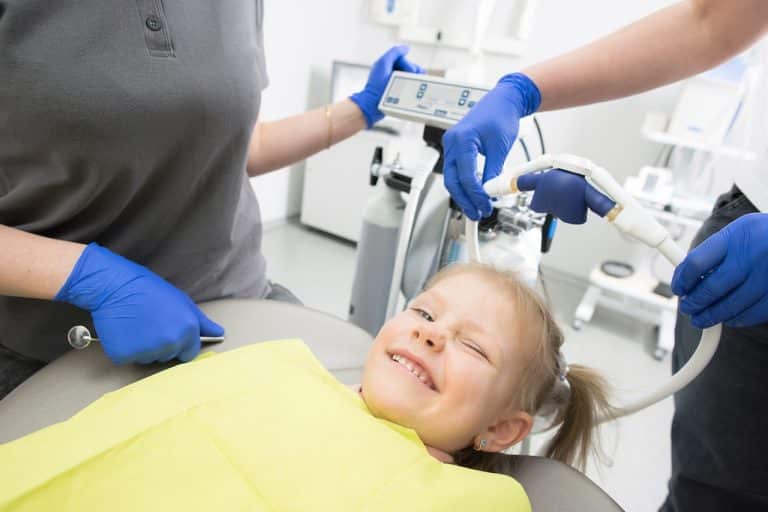 In recent statistics, it shows that 58% of children at age 14 show signs of tooth decay by age 14 in their adult teeth. There are many factors that cause this, including diet, poor dental health routines, and a lack of education regarding dental hygiene. Visits to your family dentist are an important part of making sure factors that cause dental disease and decay are minimised, as they are the best source of information regarding dental health. Starting regular check-ups at a young age provides a number of benefits to set children up for a long life of dental health. In fact, dentists recommend beginning regularly dental check-ups from as early as one years old. Beginning regular dental check-ups from a young age can decrease anxiety around dentists and dental health, and provide children and families with the best and most relevant information, which we will explore further in this article.
Decreases dental anxiety. Around 85% of Australian adults have some form of anxiety related to going to the dentist for their regular check-ups, which is a very important part of maintaining healthy teeth and gums. By avoiding or procrastinating check-ups, important dental issues that are left unidentified and unresolved, which often creates more serious dental problems over time. These later require more serious and costly procedures. Therefore, taking kids to the dentist earliest allows them to be more comfortable in a dental setting, which is valuable in later life to reduce dental anxiety.
Seeing dentists as here to help. People tend to have a negative perspective of dentists due to related anxiety, but also due to costs and their own lack of knowledge regarding dental health. Beginning a relationship with your local dentist at a younger age will make children more comfortable to discuss dental health and problems with their dentist. Additionally, when trust is built with your dentist you are more likely to use their advice and maintain a healthy dental regime.
Being given the right tips and tricks from your dentist for your individual dental needs is an important prevention tool for later dental problems. Based on each individual, a dentist is able to provide more personalised care and advice regarding what our dental regime should look like, to prevent possible decay and dental diseases. Minimising the risk of dental problem is important because minimising the risk is always better than the cure for when a dental issue des present itself.
Healthy dental habits promote overall better health as well, which includes seeking medical help from experts when required. By going to the dentist regularly from an early age, it is teaching your child that dental health is a priority and should be important to them. This also generalises to other areas of physical and mental health, setting your child up for a healthier future overall.
Dentists can provide important dental education. There are many factors that influence our dental health such as our diets, the dental products we use and their ingredients and fluoride intake. As children, being educated about dental topics from a dental professional ensures they are getting the correct information early. This means they are able to introduce healthy habits earlier to begin
Overall, it is clear that starting dental check-ups early in a child's life and making sure they are attending the dentist regularly, is essential to ensure they maintain dental hygiene throughout life. By starting dental check-ups early, children are less likely to develop anxiety around visiting the dentist, are more likely to trust and listen to their dentist, and to develop better dental habits as a result of expert information from their health practitioner.